Preparing for a PROM Preemie
If you have experienced a preterm premature rupture of membranes (PROM) and expect your baby or babies to spend time in the neonatal intensive care unit (NICU) or special baby care unit (SBCU) after delivery, this article is for you. The members of the PROM list have created this "NICU orientation" article to share some basic information we learned from our own experiences with PROM preemies.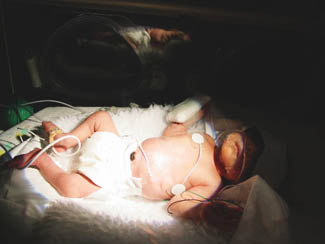 This article is intended to be a general overview of NICU issues and terminology to help ease your transition from expectant parents to active participants in your PROM preemie's care. This article is not intended as medical advice, and we encourage you to talk with your health care practitioner and consult the broad range of print and online resources available for more detailed information about preemie and postpartum conditions (see the Resources section at the end of this article for a starting point of websites and books to read).
We also invite you to join the PROM list so that we can support you and share our NICU and PROM experiences. Also, if you search through the PROM stories for deliveries after 24 weeks, you will be able to read stories of other PROM parents' experiences in the NICU.
The NICU is a new world with a new health care team, a new vocabulary, and new milestones for your baby and your family. To help prepare you for the "NICU rollercoaster ride," we'll start by repeating two pieces of advice from the "New to PROM" article:
"Be your baby's advocate with your OB/Health care provider" and "Follow your instincts".
Next page >>
Article by Jodi Donnelly, Mommy to Anthony PROM @ 16 weeks, born in 2004 @ 31.5 weeks, 41 days in NICU and now thriving
and Kay Squires, september 2005
Special thanks to Inkan, Jen, Jody, Lise, Sonya, Valerie, Beth and the members of the PROM list
© 1998-2023 Inkan, The PROM Page